We woke up around 8:30-ish in the morning with sun streaming in through the parts of the windows not covered. Our Porches room was very comfy and self-sufficient... microwave, toaster oven, empty fridge and the dreaded mini-fridge/bar, plates, cups, silverware, two televisions, a working gas fireplace, two rooms, not including the bathroom... You could even have breakfast delivered FREE to your room!
We decided NOT to have breakfast delivered so we could get out and be semi-social amongst other patrons at the main "house" for breakfast. The place was packed. Not a seat in the little dining area or in the two sitting rooms, so we sat on a long comfy couch in the hallway between the two areas. It was like we were waiting for a bus or something, but it wasn't unpleasant in the slightest. We dined on chocolate croissants, yogurt, a hard boiled egg, muffins, juice, etc. All of it was really yummy!
We checked out of our cute little Porches room and slowly bid adieu to the inn that was actually filled to capacity this weekend (good score there, Brooke!). We double-checked the room, packed the car and drove about a block to Mass MoCA for our day of art.
Free tickets in hand this time, we strolled on in to the museum, got our admission stickers to wear prominently on our person and we began...
One of the first things we saw in the main entry way of Mass MoCA is this odd console thing... I'm not going to re-type up the whole description of this strange device, but I will post a readable photo I took of the description so you can read it yourself, but TRUST ME... it's weird...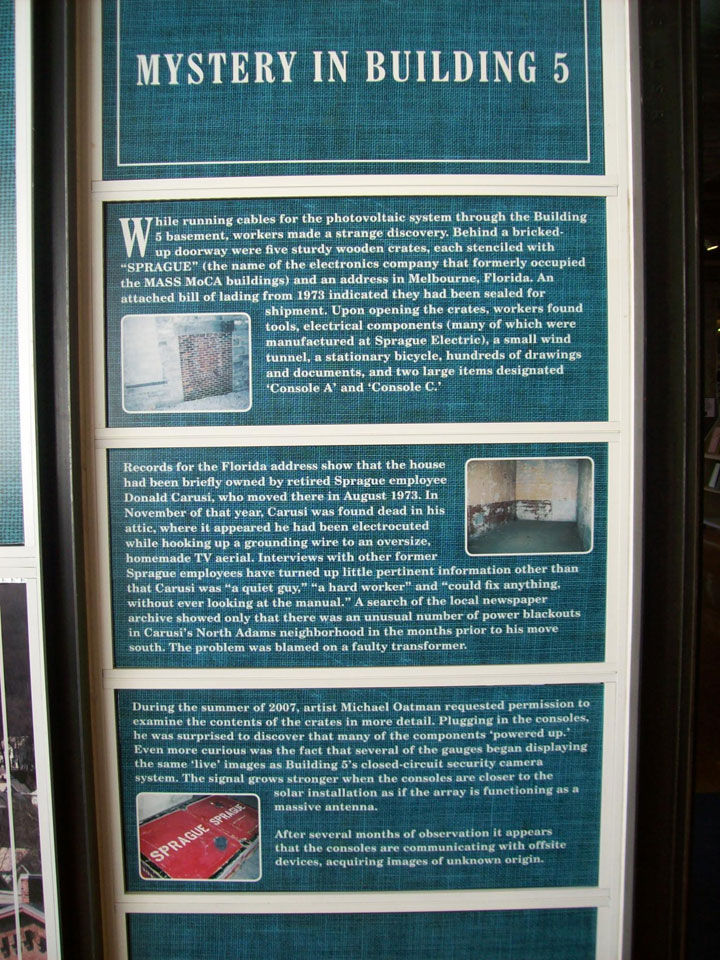 (click to read the whole story)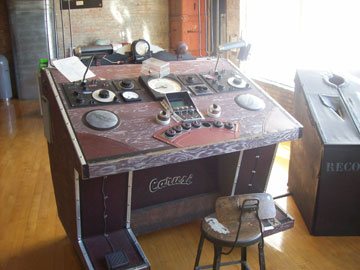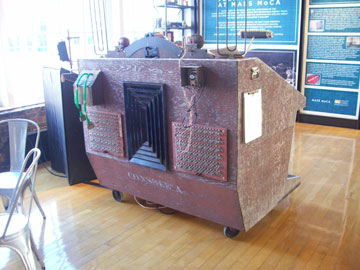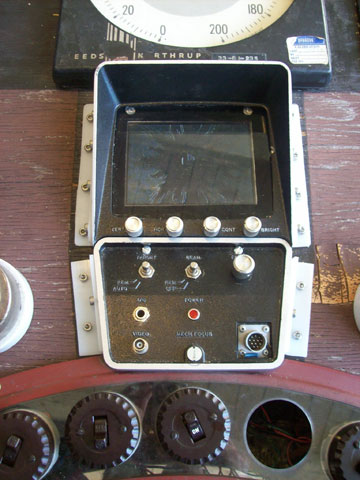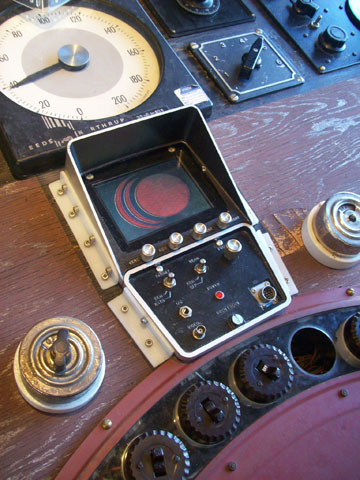 more info on the Mystery of Building 5 and solar energy at Mass MoCA
"Badlands: New Horizons in Landscape"... I'm not even going to try to describe how breathtakingly beautiful these pieces are... I'm just going to tell you that seeing art up close, in its ACTUAL size, not scaled-down, crammed in with other art, in too small of a space, etc. is AWESOME. Mass MoCA takes great care in placing artwork in appropriate spaces that makes it easier to appreciate the art itself, in a space that's totally complementary / compatible... Very cool landscape type environments were featured in this exhibit ranging from long long long photos of Artic-like icy cold settings, ice flows, aerial photos of industrial areas, "Personal Home Biospheres" that you could stand underneath and actually stick your head up into and be a part of the terrarium... Ed Ruscha's photographs with spaces cut out where there should be words and the words are underneath and usually pretty harsh and threatening:
Alexis Rockman
Anthony Goicolea "Tree Dwellers" 2005
There's lots more... Trust me... LOTS more... Mass MoCA does not skimp on art, presentation, ANYTHING... It's all done HUGE and gives the art and the viewer alot of space and respect and... I could gush on and on and on...
There was an exhibition called "Eastern Standard / Western Artists In China" which was about modernization, Western influence over modern China, all kinds of amazing fantastical interpretations of cities and labor and societal development and... We sat in on a short ominous film called "Mantis City" by Tobias Bernstrup which was a slow moving Metropolis-like city inhabited by giant praying mantises inspired by old Godzilla & King Kong movies... We saw a film by Allora & Calzadilla about the changes going on in the Pearl River Delta, from the perspective of a group of native turtles floating down the river atop a log.
We saw a
whole hallway
devoted to crazy DIY kids called the "Miss Rockaway Armada" that was a kid's / geeky adult's total hideout secret fort treehouse fantasy come to life... haphazardly strewn nailed together doors, windows, planks, cubby holes, secret passages, notes stapled allover the place... and the public was encouraged to participate, to add messages, to write on things, to explore, to crawl around, to find out where that passage goes, etc. Total insanity... THIS room / hall in particular made me wish that there was a Mass MoCA creativity room where creative types could take a break from the breathtaking and inspiring art and create their own stuff while still surrounded by art in the museum; a place with art supplies, paints, computer access, a general free for all creative space to make stuff, write in your journal, contribute a small work to a special guest wall or something...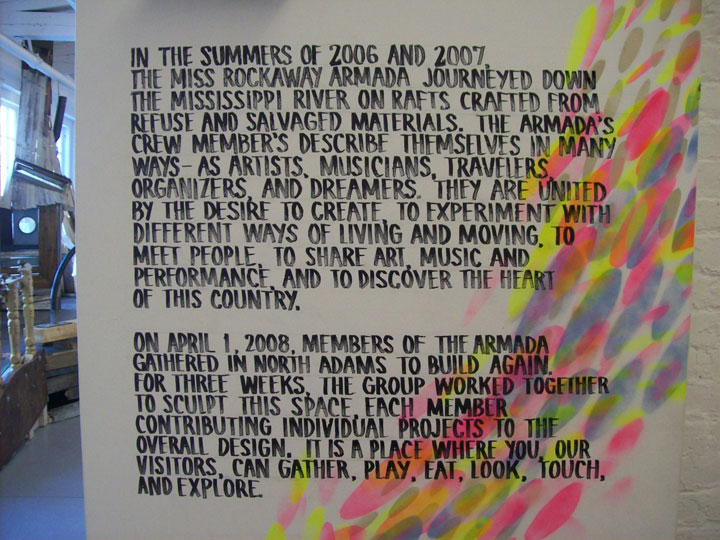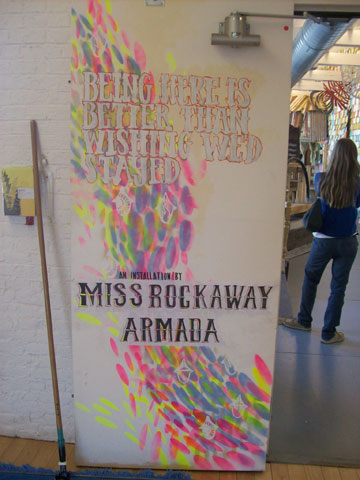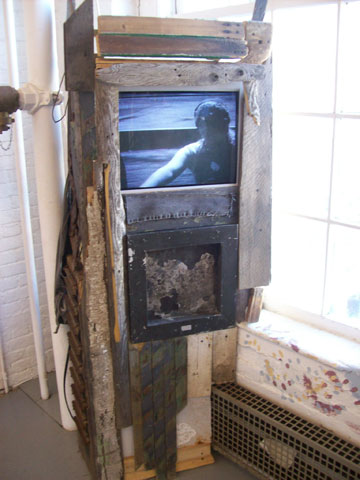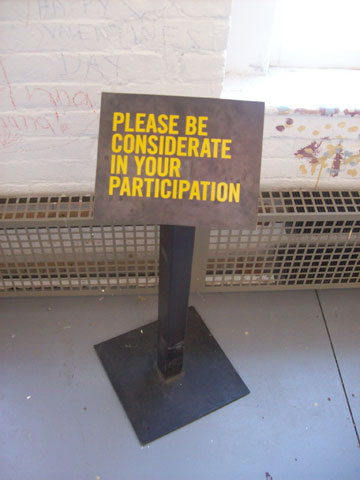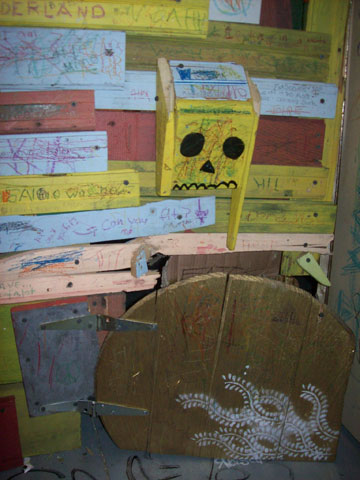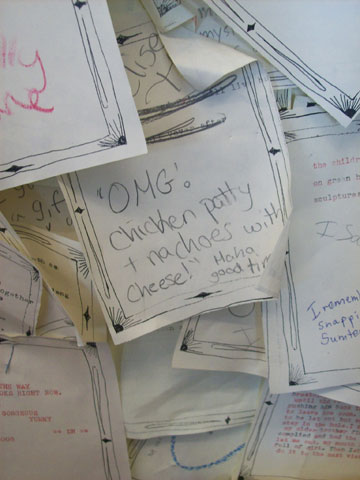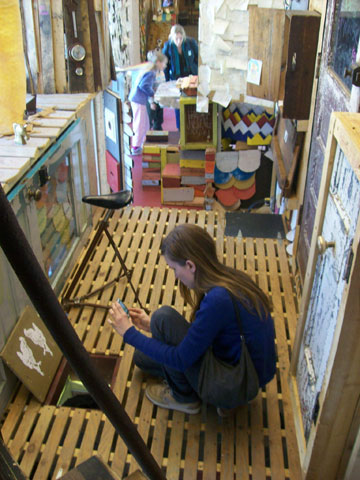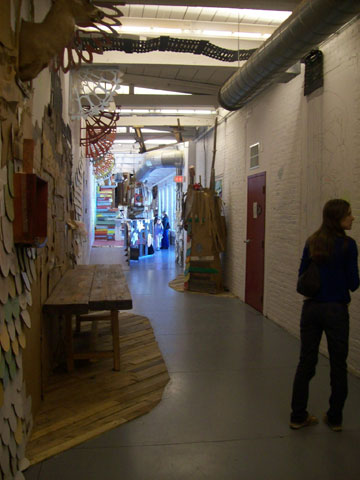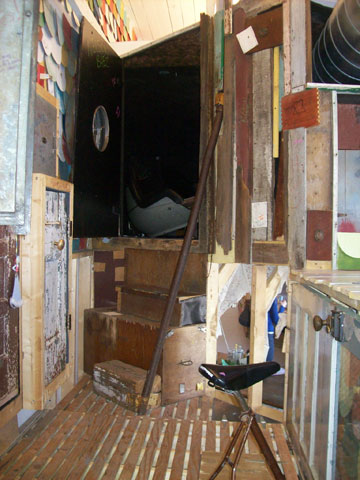 (click any of these for larger views)
There's more to Mass MoCA, but it's just overwhelming... Brooke and I left there stunned. Even the bathrooms in the basement are like an art exhibit unto themselves... there is, in fact, a Mass MoCA bathrooms postcard portfolio available for purchase! The place is just wild...
...and there's NO REASON why Worcester couldn't do something like this. We have the artists. We have the factory space. We just don't seem to be able to follow-through, think out side the proverbial box, etc. EVERY creative person in Worcester needs to visit Mass MoCA... hell, our tax dollars paid for it! Plus, it's just awe-inspiring...
This was just another incredible weekend together for me & Brooke. We headed home, stopped in Northampton for dinner and then returned to good ol' Tatnuck Square... home sweet home...