One of the ONLY good things about snowstorm, snowy, snowed-in kind of days where you just can't get anywhere, it's too damned cold and it's just easier to stay at home inside in the warmth IS that I can spend lots of time bumbling around with all of my pop culture ephemera that my house is stuffed to the gills with.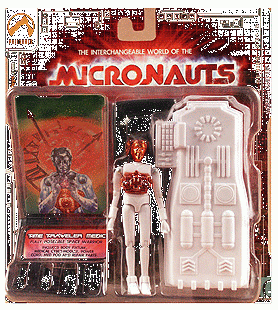 I'm nuts about Micronaut toys from the 1970's to today... The one pictured above is one I bought just recently from the now defunct revival line of Micronauts created by Pallisades Toys. Pallisades came out with 3 waves of Micronauts toys / action figures that were reproductions of the original 70's figures that I was introduced to as a child in the late 70s. This one is rare in that it's design was based on an old Time Traveller figure, but tweaked a bit to become a "medic" to fix other Micronauts. Design was done by a big Micronauts fan Bryan "MicroBry" Wilkinson who I "know" through a Micronauts / Microman message board.
I listened to alot of cool, different music on Other Music's website. Other Music is a music store in NYC that specializes in everything that the big stores tend to only barely dabble in: world music, jazz, funk, electronic, old obscure weirdness... I actually downloaded 3 releases:
Various Artists - "
Gozalo - Bugalu Tropical Volume 2
" (
full review, info etc.
)
Vampisoul delivers a follow-up to the first installment of "Gozalo!" compilation that's every bit as good! Once again, the 28-track collection dives into late '60s Peruvian boogaloo, focusing on the output of producer Manuel A. Silvestre's MAG label. There's no lack of rolling pianos, blistering horns, Afro-Cuban rhythms, and plenty of spirited vocalists. If these tracks don't get your toes tapping, you don't have a pulse.
PIERO UMILIANI
- "
Tra Scienza e Fantascienza
" (
full review, info etc.
)
"Tra Scienza e Fantascienza" is a bit of a departure from the cocktail funk of Piero Umiliani's famous song, "Mah Na Mah Na." Originally released under the name "Moggi," this is a killer album of Moog-heavy, science fiction grooves. Similar to the psychedelic, outsider electronics of Bruce Haack, "Tra Scienza" is chock full of dark, funky soundscapes that swing.
Various Artists - "
Nicola Conte Presents Viagem
" (
full review, info etc.
)
Subtitled "A Collection Of 60's Brasilian Bossa Nova & Jazz Samba," this comp indeed features much of the easy, breezy, jazzy sound that defined a good part of 60's Brazilian music. Expertly compiled by Italian connoisseur Nicola Conte, this one is not to be missed by any fan of South American bossa nova, samba or any music from the time in Brazil.
One of the best tv shows I've seen in a long time was on Sunday morning and rerun again Sunday evening on PBS:
Rick Steve's Iran
. I've been watching Rick Steve's travel shows for a long time and can watch them over and over, especial the Italian Amalfi Coast episode and the ones where he goes to Germany around Oktoberfest, but THIS episode was phenomenal. He'd never been to Iran before and it felt like both he and the viewers were learning about something / some PLACE completely alien to us. And it was a very uplifting, human feeling travel journey of understanding and meeting people and ALOT of what I had been told about Iran was washed away and replaced with even more of an interest in exploring not only there but EVERYWHERE in the world! I love travelling! Very addictive and eye-opening and brain-expanding!
and lest we forget... BEER... But not just any beer: GOOD beer.
And "good beer" at the Action Geek Compound tends to mean anything created by
Southern Tier Brewery
. There isn't a beer in their roster of creations that hasn't been totally awesome. My favorites though would have to include:
and of course,
On Sunday when Brooke's Dad and brother came over to fix the lock on the back door, I treated them to some Southern Tier Chokolat and then we tried this other Coffee Porter called "Meantime".
Meantime Brewing
is from out of England and the bottle was really different and cute, but the beer itself was not quite what I was hoping for. This is the problem with having had Southern Tier's "Chokolat" or "Creme Brulee" because those two are so incredible that no other coffee or chocolate stout really comes anywhere close to being as good. Even Meantime's website was a bit subpar. Oh well. That's the risk you take when you enjoy exploring different kinds of beers from allover the world.
Even though I hate snow and hate being stuck inside the house, at least there are still ways to make the best of it and have fun with toys, comics, cool tv shows, yummy beers, new (old) different music...